A surge protector (or surge suppressor or surge diverter) is an appliance or device designed to protect electrical devices from voltage spikes. A surge protector attempts to limit the voltage supplied to an electric device by either blocking or shorting to ground any unwanted voltages above a safe threshold.
The terms surge protection device (SPD) and transient voltage surge suppressor (TVSS) are used to describe electrical devices typically installed in power distribution panels, process control systems, Life Safety, Security, CCTV, communications systems, and other heavy-duty industrial systems, for the purpose of protecting against electrical surges and spikes, including those caused by lightning. Scaled-down versions of these devices are sometimes installed in residential service entrance electrical panels, to protect equipment in a household from similar hazards.
DID YOU KNOW? Many power strips have basic surge protection built in; these are typically clearly labeled as such. However, power strips that do not provide surge protection are sometimes erroneously referred to as "surge protectors". Your system should be properly protected with a high quality surge suppression device. Do not relay on a plug in cord to do the job for you.
While there are many varying criteria to be considered for surge protective devices (SPD), if the design engineer neglects the importance there can be serious implications for the client and equipment.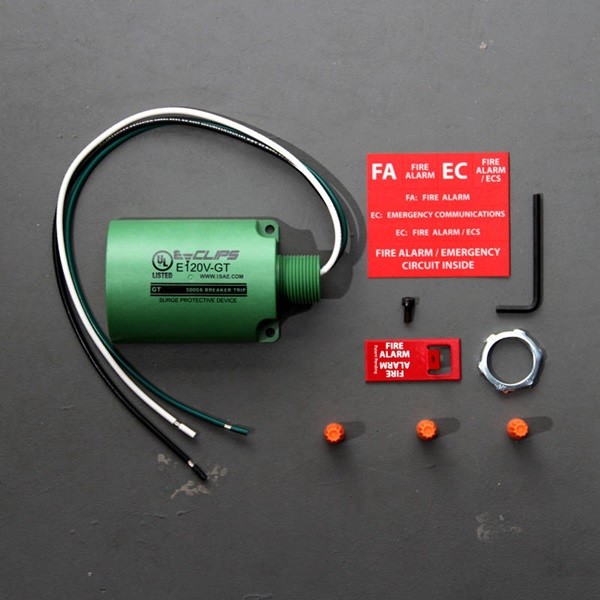 Every piece of electrical equipment is designed to operate at a specified nominal voltage. Typically equipment is designed to handle minor variations.
Critical systems wired to your electrical service like Fire Alarm Control Panels (FACP), Mass Notification systems, amplifiers, motors, pumps (HVAC), power boosters and many more must require appropriate levels surge protection.
The number one cause of destruction, degradation and downtime of critical electrical equipment is from power surges and lightning strikes. The right surge should maintain system integrity and protects against transients introduced into / onto electrical lines via poor atmospheric and utility conditions as well as internally generated inductive loads and transient TVSS. It should reduce system downtime associated with power surges and lightning strikes. It should prevents destruction and degradation of electrical components in the system.
And for all of my contractor friends, fix your nuisance and non-billable service calls as a result of transients and poor power quality and show your customer you care about system integrity and give the system the required UL Listed protection.
CODE REFERENCES – YES, IT'S REQUIRED!
NFPA 72
24.6.7.3 – "All external conductors shall be protected with surge suppression to minimize potential equipment damage from lightning strikes."
12.2.4.2- " Where fire alarm circuits enter or exit buildings, the circuits and equipment shall be installed in accordance with the requirements of Article 760 of NFPA 70, National Electrical Code"
NFPA 70- 760.32 – "Fire alarm circuits extending beyond one building – Non-Power limited fir alarm circuits and power limited fire alarm circuits that extend beyond one building shall meet the installation requirements of Parts II, III and IV of Article 800."
IFC – 907.6.1.5
"In addition to any built-in surge protection of the Fire Alarm Panel, each fire alarm panel and power supply panel shall have an added surge protector installed.
If data lines run between separate buildings , data line surge/spike protection is required on each data line where the line enters and/or exits each building."
UL 1449 3rd Edition Standard – Underwriters Laboratories standard UL 1449 is the primary safety standard for surge protective devices. (SPD's).
UL 497B Standard – Standard for Protectors for Data and Fire Alarm Circuits.
"Data communication circuit protectors and fire alarm circuit protectors are intended to protect equipment, wiring, and personnel against currents caused by lightning in communications alarm initiating loop circuits."